Rust has been Stack Overflow's most loved programming language for four years in a row, indicating that many of those who have had the opportunity to use Rust fallen in deeper relation with it.
Substrate is a blockchain development framework with a completely generic State Transition Function STF and modular components for consensus, networking, and configuration.
Despite being "completely generic", it comes with both standards and conventions - particularly with the Substrate runtime module library (a.k.a FRAME) - regarding the underlying data-structures that power the STF, thereby making rapid blockchain development a reality.
Freedom in Substrate framework: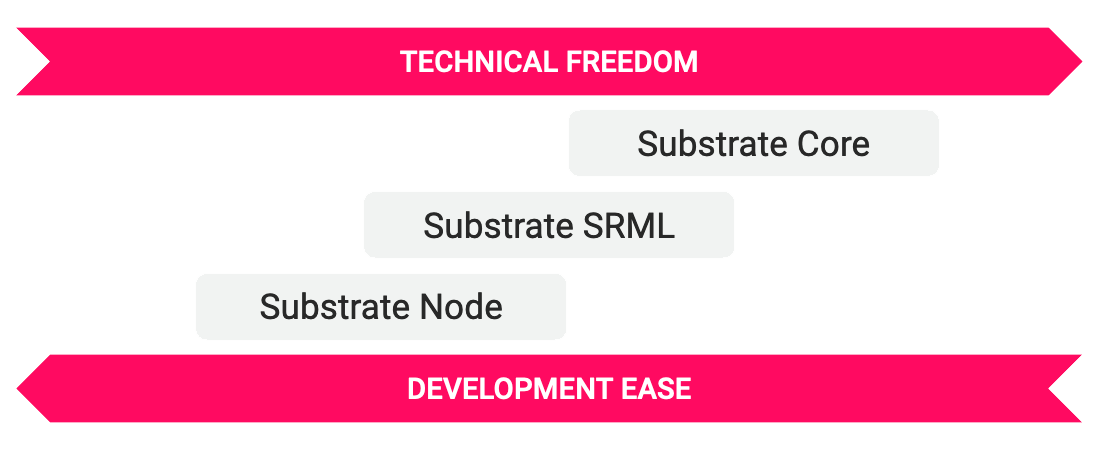 What Substrate delivers - the game changer
Be honest. Delivering distributed systems is complex and hard, many companies try to deliver usable solution, often spend millions of dollar, not rare hire 10x software engineers and pays them really a lot but still deliver usable solution is hard.
In my opinion Substrate and writing own parachain for Kusama Network is on the way to make simpler design and implement really usable solution. Why?
Because being a parachain removes following difficulties:
Security of given network

Proof of work, consensus of a network

Runtime upgrades - forget about forks (!!!)
My notebook of Joshy's Seminars
An initial assumption of the post is to share my thoughts about Substrate and Rust but also to create a notebook for snippets from so called "Joshy's Seminars" which are great! Thanks Joshy!
;-)
The seminars previously was recorded via Zoom and here is the link to YouTube currently are available via Crowdcast.
15-09-2020
https://hackmd.io/Msx2ZYb5QX2FxSWPdIpwgg?view
https://substrate.dev/recipes/kitchen-node.html
06-08-2020
1

https://polkadot.js.org/apps/#/settings?rpc=ws://127.0.0.1:9944
28-07-2020: Substrate Enterprise Demo
Role-based Access Control Pallet https://github.com/gautamdhameja/substrate-rbac
Decentralized Identifiers Pallet https://github.com/substrate-developer-hub/pallet-did
Product Tracking Pallet https://github.com/stiiifff/pallet-product-tracking
Product Registry Pallet https://github.com/stiiifff/pallet-product-registry
Validator Set Pallet https://github.com/gautamdhameja/substrate-validator-set
26-05-2020
Links
https://substrate.dev/docs/en/knowledgebase/integrate/memory-profiling
https://github.com/w3f/consensus/blob/master/pdf/grandpa-old.pdf
https://wiki.polkadot.network/docs/en/learn-consensus#grandpa-finality-gadget
https://marketplace-staging.substrate.dev/
https://www.forrestthewoods.com/blog/how-to-debug-rust-with-visual-studio-code/
https://hackmd.io/OzLUIGA8QQC3Ketgsd7vqg
https://github.com/paritytech/substrate-debug-kit
https://substrate.dev/en/seminar
https://blog.chain.link/44-ways-to-enhance-your-smart-contract-with-chainlink/
https://github.com/smartcontractkit/chainlink-polkadot
Rust courses
. . to be continued . .